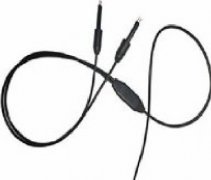 SSW-TDS-2U Dual-Channel Digital TDS sensor probe
1 Summary
We designed a series of sensors for TDS measurement. As a normal function in water quality, TDS sensor had been used in household water purifier, commercial water purifier, fish tank, agriculture ,etc. SSW-TDS-xU( hereinafter referred to as "sensor") including 的SSW-TDS-2U for 2/8 inches tube and SSW-TDS-3U for 3/8 inches tube。 For the other size, please find a suitable adapter.
2 Parameters
notes
Min
Typical
Max
Unit
Electrical Characteristics
VDD
Supply voltage
3.3
5
5.5
v
IDD
Current on working
4
mA
Is
Current on sleeping
1
mA
Full Range
The tds range of the liquid
0
2000
uS/cm2
0
1000
ppm①
TDS resolution
Min changed value
1
ppm
Temp. calibration range
0
25
50
℃
Accuracy
Compare with the standard liquid
2%
3%
5%
%②
Probe life
Would be different when the condition is changed
1
3
4
Year
Pressure limit
7
9
Bar
Flow velocity limit
Must lower this value
1
L/min
Storage temp.
When package is unbroken
0
50
℃
Storage RH.
When package is unbroken
0
95
%RH
Dimension
Metal of the probe
The efficient length of the probe
5.8
6
6.2
mm
Diameter of the probe
1
mm
Gap between the probes
2
mm
Length of the head part
SSW-TDS-2U
59
mm
SSW-TDS-3U
69
mm
Total length
1200mm for SSW-TDS-2U
1500mm for SSW-TDS-3U
1200
1500
mm
1 recommended lower than 2000us/cm
3
,when used in higher than 2000us/cm­
3 ,
the accuracy would be bad。
2 the standard instruments is online device ,please don't compare with the TDS pen
3 Dimensions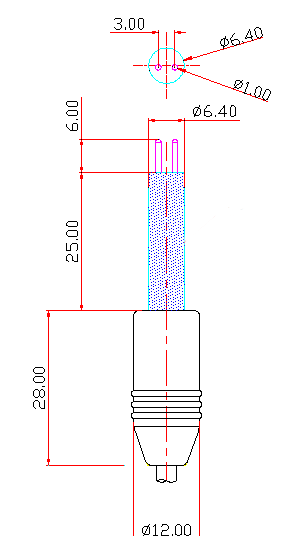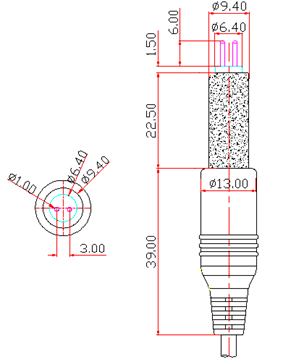 SSW-TDS-XU Dimension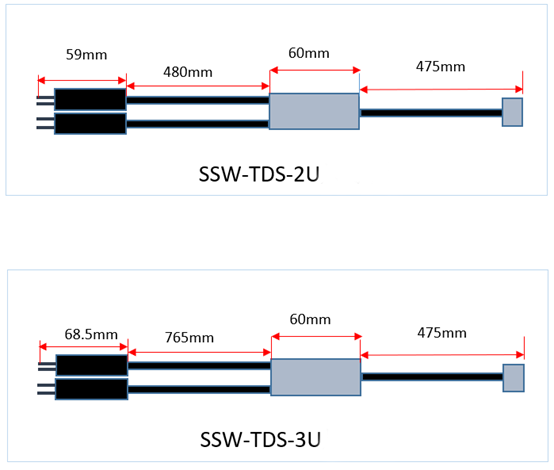 4 Reference design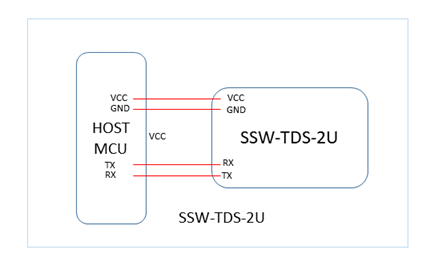 Steps:
1 connect the sensor to your mainboard
2 run the query instruction,get the feedback
3 analyze the data,get the TDS
in
and TDS
out
5 Water Proof
As an important accessories of the water purifier ,the sensor conform to 2/8 inches(6.4±0.1mm), 3/8 inches(9.5±0.1mm)standard size. So as to achieve the water proof
Take SSW-TDS-2U as an example,we did three water proof operations:
1 knurled needle,to make the needle integrated with the plastic
2 use epoxy to fill the hollow part of the header
3 if the two steps are not enough to prevent the water ,we do injection molding again to make sure all leak risk to be resolved inside
6
Installation instructions
1 cut the power
2 plug the probe into the adapter
3 the source probe should be installed before all filters,the out probe should be installed after all filters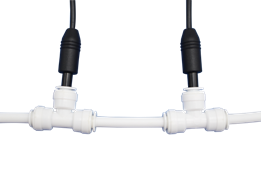 7
Materials specification
index
Part name
materials
Vendor/safety standard
In-water parts
1
needle
Stainless steel/
Titanium alloy
304L,316L
TC4
2
Plastic header
ABS/PP-R
CHIMEI 757F(F means food)
Formosa 360-F
The other parts
3
housing
PVC
ROHS
4
Wire
PVC &Cu
ROHS
5
connector
NYLON 66 and Cu.
ROHS
6
PCB
FR-4
ROHS
8
Order guide
Partno. table:
Tube
TDS
Protocol
Connector
notes
package
SSW-TDS-2U
2/8
YES
UART
2.54 XH 4PIN
SSW-TDS-2I
2/8
YES
I2C
2.54 XH 4PIN
4-8 weeks
SSW-TDS-3U
3/8
YES
UART
2.54 XH 4PIN
SSW-TDS-3I
3/8
YES
I2C
2.54 XH 4PIN
4-8 weeks
9
Communication protocols
The sensor use TTL UART by default,slave mode.
UART information:
1 Baud Rate:9600bps
2 parity bit :none
3 stop bit :1 bit
For more information about Protocal please contact us for datasheet.



10 FAQS
Issue
Probably reason
Resolve methods
TDS value is very lower
Maybe there had bubble in the adapter
Rotate the adapter 90o
Temp. to be 0 or 100
Probe broken
Change and send to us
The result be high and low
Maybe caused by the water flow
Change the install position or accept it
Source tds is lower than clean tds
May be you need to reverse the two probes
The result is lower than it was test outside the tube
The result would decrease when the probe installed in the tube
1 accept it
2 ask us for help ,it need to calibration for your machine
More Products